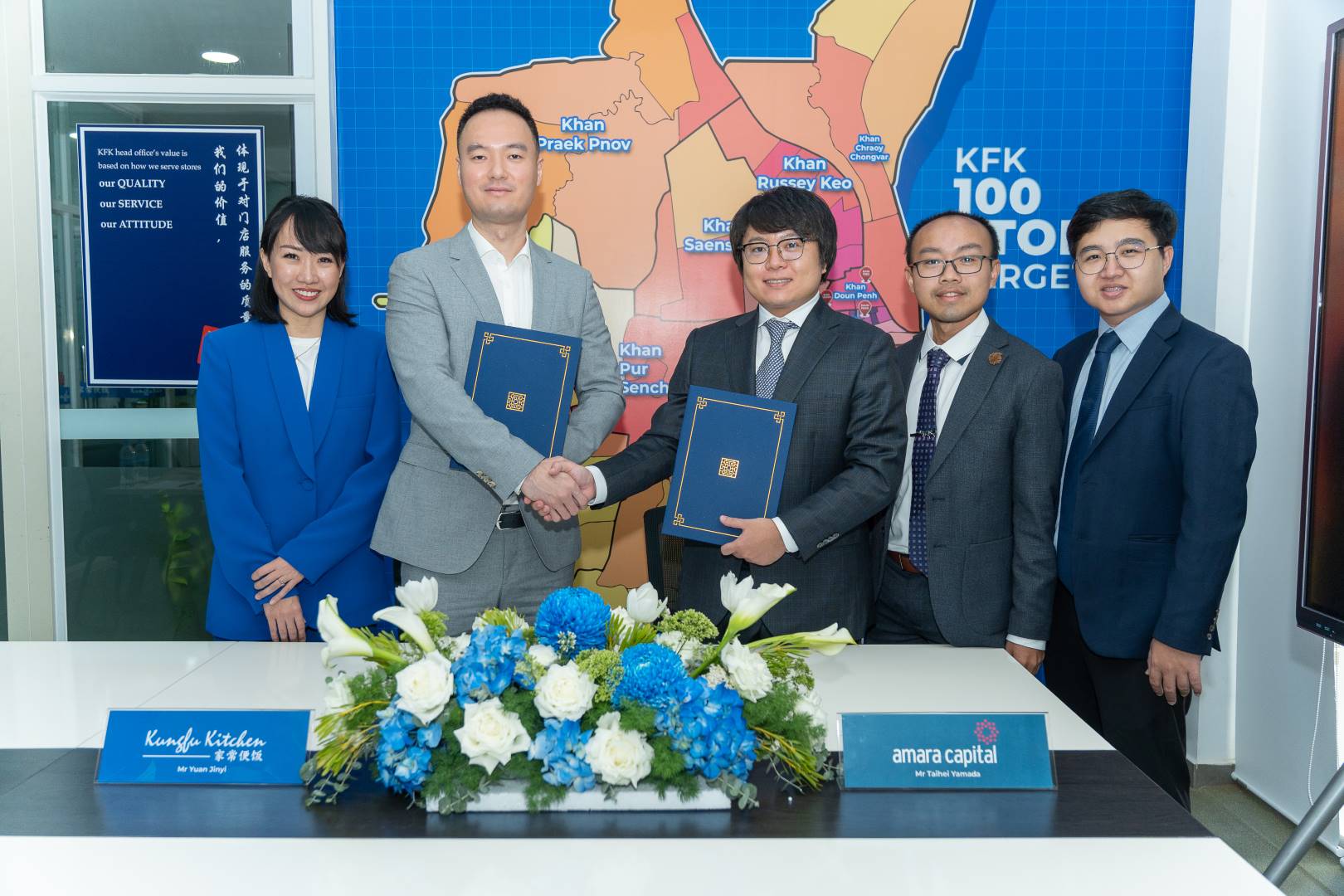 [Phnom Penh, June 30, 2023] – Amara Capital, a Cambodia-licensed fund management company, announced strategic growth investment in KFK Holdings, a leading F&B group that houses the renowned, Kungfu Kitchen in Cambodia. This transaction signifies a strategic alliance between the two firms to further fuel the growth of the industry in Cambodia.
Founded in December 2019, KFK Holdings has grown from a single store to a prominent player in the hotpot market. It started with one "Kungfu Kitchen" in Beong Keng Kang to 14 stores across Phnom Penh within 3 years.  KFK Holdings offers an exceptional dining experience with its diverse menu offerings, serving affordable Chinese-style hot pot and side dishes. The company prides itself on delivering to customers unique delectable Chinese dishes with an immense dedication to quality, authenticity, and affordability, making it the go-to choice for food. It primarily operates in an affordable segment, taking advantage of Cambodia's growing young population and middle-income population.
"We are delighted to welcome KFK Holdings into our portfolio," said Taihei Yamada, the Chairman of the Investment Committee at Amara Capital, "Kungfu Kitchen's exceptional culinary offerings and strong brand presence with a focus on the affordable segment perfectly align with the rapidly growing demand along with the young population demography and the emergence of the middle class in Cambodia. We strongly believe in the management team's commitment and capability in developing and managing new brands with quality. As an investor, we look forward to bringing our capital and financial and business strategies to unlock new growth opportunities and develop a F&B empire."
Amara Capital's investment in KFK Holdings implies a strategic synergy aimed at leveraging both companies' know-how to enhance its business and financial capabilities, foster corporate governance, and expand its market share. Together, Amara Capital and KFK Holdings pursue sustainable and strong growth and deliver unparalleled and affordable dining experiences to customers.
"We are honored to work with Amara Capital, they share the same goal and commitment to value-add to the Cambodian economy", said KFK Holdings CEO after the deal was inked. "We trust in the Amara's expertise to bring KFK to the next level and look forward to building on each other's strength and grow the company.
About KFK Holdings
KFK Holdings is a multi-concept Food & Beverage group that is committed to delivering fresh concepts and great dining experiences to Cambodia. KFK Holdings' believes that the success of a brand is not based solely on the product and market needs, but also on the people behind the brand. Our mission is to invest in the people of Cambodia, nurture their talent and to work with each individual to build them up to their fullest potential. KFK Holdings is created in Cambodia and will be a platform to grow a strong and capable Cambodian team.
About Amara Capital
Amara Capital is a fund management company licensed by the Securities and Exchange Regulator of Cambodia (SERC), and run by experienced entrepreneurs and investment specialists. Amara offers financial solutions, including credit solutions and private equity investments, to Small and Medium Enterprises (SMEs) in Cambodia.
With an institutional investor's fund, Amara offers credit solutions to Cambodian microfinance institutions, leasing companies, real estate developers, and SMEs. Investing as a strategic minority investor, Amara provides Cambodian companies with strategic capital and the development of governance, business planning, and financial strategy to pursue sustainable business growth.
Amara aims to become the platform where Cambodian entrepreneurs grow their businesses in a sustainable manner within this rapidly growing environment.
For more information, please visit https://www.amaracapital.com.kh/
For Media Inquiries, please contact info@amaracapital.com